JEB Stuart High School
Classes of 1961 - 2013
Welcome to your
JEB Stuart Alumni Association
web site!
ANNOUNCEMENTS
HOMECOMING!
SAVE THE DATE - HOMECOMING THIS YEAR IS ON FRIDAY, OCTOBER 17TH.
PLAN TO ATTEND THE ALL CLASSES ALUMNI PARTY IN BACK PARKING LOT UNDER TENT DURING FOOTBALL GAME. FUN!
IF YOUR CLASS IS PLANNING A REUNION THIS YEAR - PLEASE INCLUDE THIS PARTY IN YOUR PLANS.
ISO EDDY RODRIGUEZ, CLASS OF '72
FROM: LILIANA PALLERES
Hi I am trying to find Edmond Rodriguez he was a senior in 1972, he was called Eddy Rodriguez,if you have any information please contact me through this web site. Thank You
Lina Maria Lenis Gonzalez
J.E.B. Stuart High School
School counselor Virginia Justis remembers being caught by surprise when Lina Maria Lenis Gonzalez, then a sophomore, stopped by the office to introduce herself and spell out her personal goals. "She completely took the initiative," Justis says. "[She] is a mover and a shaker…who lives by the motto of leaving a place better than you found it."
Last year, Gonzalez completed a 14-week internship program at the United States Holocaust Memorial Museum—an experience that deepened her perspective on issues in her school and community. "In my school, in every school, there is bullying," the 17-year-old observes. "So I try to raise awareness about bullying and any type of oppression that can lead to problems in society."
Through her school's Key Club, a service program she helped establish in 2012, Gonzalez has organized activities ranging from soup kitchen visits to shoe drives that support poor families in Honduras. She served as junior class treasurer, plays for the varsity field hockey team, volunteers as a Spanish tutor, and holds a seat on the Fairfax County Public Schools Student Advisory Council. She also devotes time to the Leadership Council for the school board's College Partnership Program, which helps minority and first-generation students of immigrant families get into college. (She moved to the U.S. from Colombia at age 5 with her parents, Hector Lenis and Liliana Gonzalez.)
Now a rising senior, Gonzalez plans to study political science in college, attend law school, work as a lawyer and ultimately run for governor. "I would like to get that education to make sure that if one day I have the opportunity to make laws, they can be effective and efficient to truly make a change in the community," says the teen.
In the meantime, the straight-A student is on a path to earn an International Baccalaureate Diploma. She credits her mom as the inspiration behind her work ethic. "She is the hardest-working person I have ever met," Gonzalez says. "[She] inspires me to make positive changes so other students will grow up and succeed, and won't have to work as hard as my mother [does] to support their families."
—Lindsey Brookbank (photo by Erick Gibson)
TRYING TO LOCATE MS. KIELY, ART TEACHER
Does anyone know where Ms. Karen Kiely is? She was an art teacher at Stuart in the 70's and 80's. If anyone has info please contact Rodney Dennis through this web site. Thanks.
FUN TIMES AT CLASS OF '74 REUNION
CLASS OF '74 -
Partial Group Photo. Some were late,
some were in the bar getting martinis...
Stuart Mentoring Program
144 Raiders (nominated by their teachers) attended our mandatory mentoring training from 12:00 to 3:30 in the auditorium. 104 of the attendees have pledged to attend the freshmen orientation in August. More than 20 of the participants have shown interest in becoming executive mentors. The trainers reported that the attendees were extremely engaged in the session and are well on their way to help provide a positive transition for our freshmen students and to reshape the school culture.
The emphasis of this mentoring program is grounded in emotional intelligence theory with an emphasis on building positive relationships. Every freshman will have an upperclassman mentor in the fall; and these mentors will receive additional training though out the year by Core Transitions trainers who visit several times during the year.
We are very fortunate and thankful our PTSA matched our funding so we can provide this program to our upcoming freshman class. We are very excited after seeing the results of this program at other high schools in FCPS and look forward to the positive impact this program facilitates in all students who participate as well as the school culture it directly influences.
Class of 2014 Graduation Ceremony:
The faculty did a fabulous job of planning our graduation ceremony. The event was both exciting and memorable for our students and family. I cannot tell you how proud I am of all our students. I would like to give special recognition to the student speakers who represented Raider pride with great distinction, the Select Vocal Ensemble led by Ms. Eiting for their inspirational songs, the band directed by Mr. Thomas, and our graduates who remained poised throughout the ceremony. The speaker delivered a very inspiring message which resonated with many of our graduates and their family, a message of hope, resiliency, and perseverance.
The Class of 2014 will be matriculating to numerous colleges and universities throughout the United States and abroad, including some of the most prestigious schools, such as Cornell University, Washington University in St. Louis, University of California, Berkley, University of Virginia, Smith College, and Virginia Tech. Additionally, nine of our graduates have also committed to serve our country by joining one of the branches of the armed forces. The Class of 2014 has been offered and accepted over two million dollars in scholarship offers. We are very proud of our graduates!
Special thanks to the SGA sponsor Ms. Beth Buffenbarger, the senior class sponsors Ms. Kristine Sadusky, Mr. Mike Southee, and all our class sponsors.
Prosperanta B. Calhoun
Principal
J.E.B. Stuart High School
JEB Stuart Reunion Sept 6-7
Combined Classes 1961-1965
-Saturday dinner/dance, 7 pm, Hilton Hotel, Herndon, VA
-Sunday picnic, 11 am, Fort Hunt Park, Alexandria
-$100 per person, includes picnic
-Special hotel rate $79, free Dulles shuttle available
We want to count you in right away! Send a check
payable to JEB Stuart Reunion, 8161 Ships Curve Lane,
Springfield, VA 22153. Even if you can't come, give us
your current email address & phone number.
Committee Members - answers to questions or to volunteer
CLASS OF '84 - 30TH REUNION - SAVE THE DATE!
Homecoming weekend Oct 17-18. Game/tent Friday. Saturday dinner and party. Details to follow. Email Ellen Lewis at Eslewis@Hotmail.com with questions. Thanks!
Katie O'Rourke - Stuart Graduate
This past Sunday, June 1st, Katie O'Rourke, a 2010 graduate of J.E.B. Stuart High School, was the guest speaker at the Fairfax County Public Schools Women in Sports Ceremony at Oakton High School. At this ceremony they announced the winners of the 2014 Coach of the Year, Sportswoman of the Year and the Donna de Verona award from nominees selected by each Fairfax County High School. During her time at Stuart Katie was a member of the National Honor Society, an All-District and All-Region Cheerleader, and was Stuart's nominee for the 2010 Sportswoman of the Year Award.
In April, 2014, Katie graduated with honors from the University of Pittsburgh, with a degree in Media and Professional Communications. Katie attended PITT on a Full Athletic Scholarship, lettering all four years on the Panther gymnastics team, while qualifying to the NCAA regionals for three consecutive years. Most recently, Katie was honored by the University of Pittsburgh with the 2013-2014 Panther Award as the most outstanding senior female athlete of the year, the highest honor bestowed on a PITT athlete, including having her name carved in stone and placed on the school's Varsity Walk of Fame, joining other great PITT athletes so honored. In April, Katie was selected as a recipient of the Weaver-James-Corrigan Post Graduate Scholarship Award presented by the ACC to athletes who have performed with distinction in both the classroom and their respective sports. In a conference with over 130 gymnasts, she ended her senior year ranked 3rd on floor and 5th on balance beam, earning first team all-conference and all-tournament honors on both events. Katie's academic performance was equally impressive, as she was named as an NCAA Academic All-American, and a member of the East Atlantic Gymnastics League All-Academic Team. She was also active in other student-athlete activities, serving as a member of the PITT Panther Leadership Academy, and the PITT Student Athlete Advisory Committee. Katie plans to return to PITT this fall to pursue an MBA degree in preparation for a career in Sports Management and Marketing.

We are very proud of Katie!!!
Give back to Stuart through the
JEB STUART EDUCATIONAL FOUNDATION

The Foundation has been helping our students reach their goal of attending college. Often our students are the first in their family to have this ability. All alumni are invited to GIVE BACK to our school through this worthy organization.
Click on link on left side or go to www.stuartfund.org to find out more info and to donate.
PLEASE GIVE GENEROUSLY - OUR STUDENTS DESERVE IT! (and need it!)
A message from FAIRFAX COUNTY PUBLIC SCHOOLS
Dear Parents and Guardians,
This message is to inform you about the on-going support Fairfax County Public Schools is providing to Stuart High School – both academically and administratively. A recent article in the Washington Post unfortunately reinforced a number of negative stereotypes about the school which has caused a great deal of concern within the community. Interestingly, the same reporter publishes an annual ranking of the nation's most demanding high schools and Stuart consistently ranks in the top 5 percent of schools in the country in the Post's Challenge Index. We should be celebrating the achievements of Stuart's students, not disparaging them.
Stuart students' performance on the 2013 SAT test posted the highest gains in all of FCPS with the critical reading average increasing by 23 points, the math average by 18 points and the writing average by 17 points. Stuart's ACT English, math, reading and composite scores all increased in 2013; The number of dual enrollment students more than doubled this past year; 57 percent of 11th grade students and 72 percent of 12th grade students are taking at least one IB class – both grade levels increased over the past two years; and the number of 10th grade students taking at least one honors class increased 18 percent this past year. In 2013, 52 Stuart seniors chose to pursue the full IB diploma- the fourth largest number in the county - and Stuart also awards the fourth largest number of IB diplomas in FCPS.
These results are being produced at a time when Stuart's demographics are changing dramatically. Thirty percent of Stuart's students are Limited English Proficient and 62 percent are eligible for free or reduced price meals. These changes are also reflected in many schools across Fairfax County. We do not view these changes as a challenge but, rather, an opportunity – an opportunity to ensure that each student reaches his or her full potential. We believe every child counts and Stuart's outstanding instructors and administrators are leading the way in helping students use their strengths, skills, and knowledge to develop and learn. They are accomplishing their tasks collaboratively with the social, emotional, and academic well being of all Stuart students in mind. I am proud of the manner in which Stuart teachers, staff, and administrators have redoubled their efforts to embrace the opportunities before them.
Administratively, FCPS is fully committed, from the superintendent through the ranks, in support of the administrative team at Stuart High School. Several months ago, we brought in a mentor principal – Bruce Butler, who recently retired after a long and distinguished career with FCPS. We also added a mentor director of student services – Shannon Tully. In addition, FCPS increased the security presence at the school, provided additional guidance to the school's administrative team in developing next year's master schedule, provided guidance and support in the recruitment and retention of teachers at the school, and offered flexibility to administrators to manage the school day, as needed for the advancement of student achievement. These supports are on-going. Additionally, I am working to secure an additional administrator to the school leadership team.
We believe in the school's leadership team; more importantly, we believe in Stuart's students. I am committed to increasing collaboration between the school and the community to build upon these improvements and successes. I remain committed to increasing collaboration between the school and the community to correct the specific areas of concern highlighted in the working conditions survey. As parents, you are the critical piece in this partnership and we will need your continued engagement and involvement to ensure that we are producing positive and tangible results that will benefit our students.
Thank you for your continued support of Stuart High School.
Sincerely,
Douglas A. Tyson
Assistant Superintendent, Cluster 3
Fairfax County Public Schools
LOOKING FOR SOMEONE?
We have received many emails recently in which people are trying to locate former classmates. Instead of posting them as announcements on this Home Page we have created a User Forum titled ISO. Click on the User Forums tab on left side of this page and follow the directions to post questions, answer questions, etc. Thanks everyone!
CLASS RING FOUND!
A class ring belonging to Melissa Arias has been found. She is Class of '97. If you know of her whereabouts and can let her know - that would be great! She should contact Paula Sorrell at psorrell@comcast.net for info.
FUN ALUMNI TAIL GATE PARTY!
AND RAIDERS WON!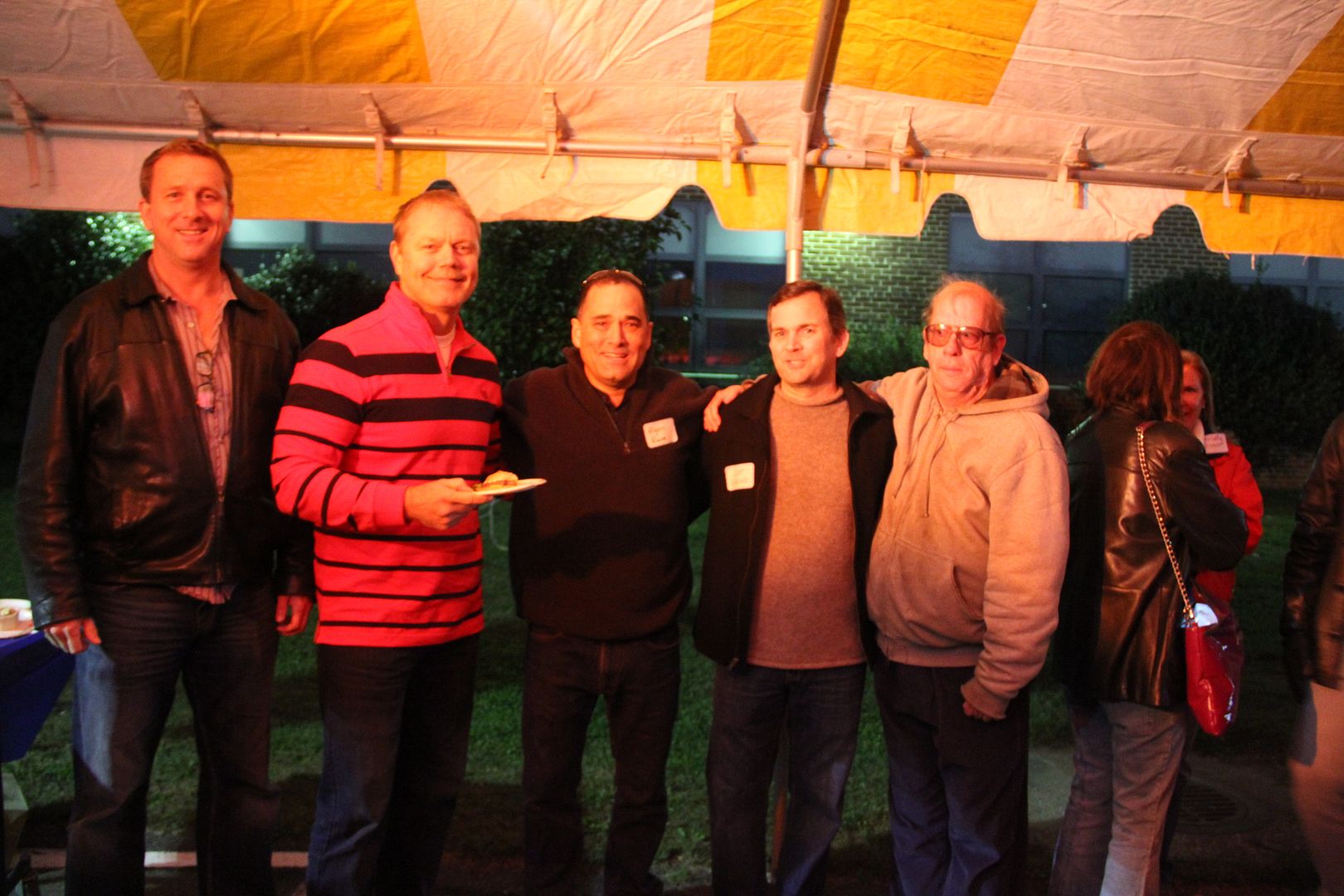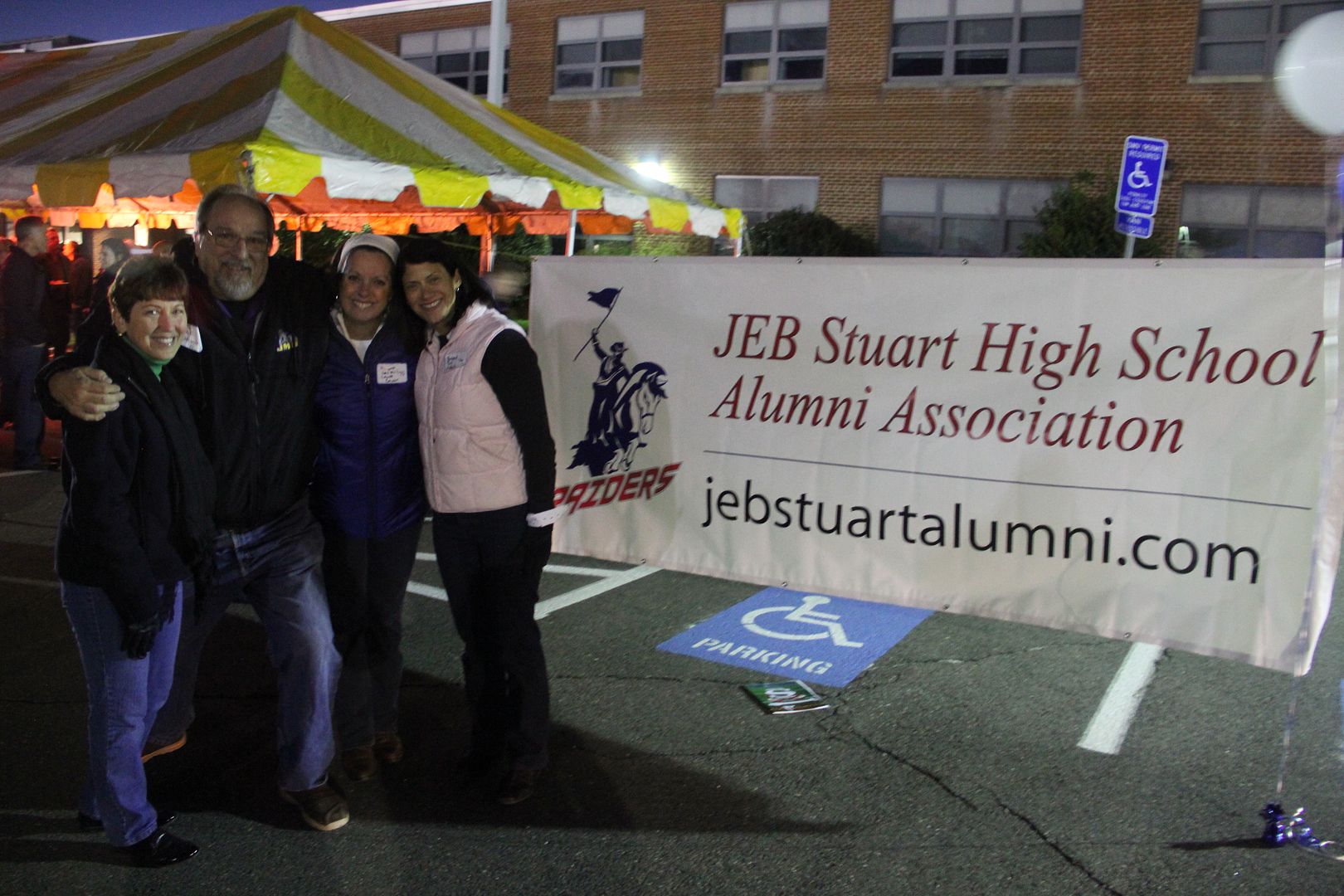 CLASS OF '78 - SATURDAY NIGHT PARTY
Advisory Board Members for 2013-14 :
Andie Rowe, Wendy Hilton, Jeff Hamblen, Jeff Barham, Robin Delaney, Nancy Deprete Benjamin, Gary Houk, Margaret Connor, Carol Miller, Harold Mintz, Laura Nettuno, Vince Nettuno and Susan Tull O'Reilly
Thank you Advisory Board Members for helping out!
Interested in being on the Advisory Board next year - let one of us know (you need not live in the DC area to do this - the primary function is to provide input to our association.)
Post your photos -
of yourself on your profile page and of friends/Stuart stuff on the photos page!
DON'T BE SCAMMED
Alumniclass.com is NOT our website, though it claims to be. They are a FOR PROFIT company - ours is not and ours is approved by the school! Beware!
WANT RAIDER GEAR?

We've got it......Click on this link to purchase all your Raider Gear.
Also available at the home football games.
The mission of the JEB Stuart Alumni Association is to be a means for communication through newsletters, social media and gatherings to benefit JEB Stuart High School alumni, teachers, administrators and their families. By providing current information about class reunions, alumni activities, important school announcements, and scholarship assistance, we will continually strive to build up the JEB Stuart community spirit. Our goal is for the Association to give back the morale, spirit and connections we were once afforded by this outstanding high school for years to come.