JEB Stuart High School
Classes of 1961 - 2013
Welcome to your
JEB Stuart Alumni Association
web site!
ANNOUNCEMENTS
J.E.B. Stuart High School Drama Department
presents their spring play
"Fuente Ovejuna"
written by Lope de Vega. This is a comedic masterpiece by one of the greatest writers of the Spanish Golden Age.
Based on real-life events of 1476, Fuente Ovejuna tells the story of a town that bands together and rises up against a tyrannical overlord, resulting in his death. When the authorities attempt to find out who is responsible, the people band together and perform one of the most memorable acts of resistance in world drama. It is a story of love, honor, courage and above all, the inspiring power of the people when they stand up for what is right.
Performance dates are:- Thursday, Friday and Saturday 1, 2, 3 May at 7.30pm; Friday, Saturday 9,10 May at 7.30pm.
Performance will be held in J.E.B. Stuart High School Auditorium
Tickets - $10 adults, $8 students and teachers. Tickets available at the door, or at www.stuartdrama.org For further information, phone 703-824-8934.
Opening night, Thursday 1 May is a 'Pay What You Can' performance and we welcome all who would like to support these hard-working students to come and enjoy the show at whatever cost you choose!
RAIDER RUN - MAY 3RD
Spring is finally here! It's time to lace up your shoes and start your training for the 17th annual Raider Run.
Our fun, family-friendly race is scheduled for Saturday, May 3 at 5pm. So no excuses, you can sleep in, watch your children play sports, run errands, and still support JEB Stuart High School's student athletes by participating in the Raider Run.
The race course begins at Stuart High School then winds its way through neighboring streets. The race is chip-timed and each participant will receive a quality t-shirt. Awards are given to the top three finishers in 8 age categories. Register by April 13 to take advantage of the early bird discount.
For more information and to register online, go to http://raider5k.com
Grab your family, neighbors, and friends and join us 5/3 at 5!
HOMECOMING!
SAVE THE DATE - HOMECOMING THIS YEAR IS ON FRIDAY, OCTOBER 17TH. PLAN TO ATTEND THE ALL CLASSES ALUMNI PARTY IN BACK PARKING LOT UNDER TENT DURING FOOTBALL GAME. FUN! IF YOUR CLASS IS PLANNING A REUNION THIS YEAR - PLEASE INCLUDE THIS PARTY IN YOUR PLANS.
40

th

REUNION-UPDATED INFO
We are thrilled to announce our 40th reunion on June 6 and 7, 2014. We'll start with a golf outing on Friday followed by a band party with the fabulous Nighthawks on Friday evening at Westfields Golf Club in Clifton. On Saturday, 6/7, from noon to 2 we'll have an informal picnic at Lake Barcroft's beach 5 (Waterway Drive and Rusticway Lane). The picnic is FREE and the Stuart athletic boosters will be offering an "a la carte" picnic lunch for a low price. Families are welcome to attend. RSVP to blecos@verizon.net.
We'll finish with a Saturday night party at a location to be announced. Please contact our other classmates and ask them to register their email address at this website. We will use this website to mass email classmates as our plans progress. More information will follow as it becomes available. Please direct any inquires/input to jebstuart1974@yahoo.com.

CLASSES '73 AND '75

ALSO INVITED TO THE FRIDAY NIGHT PARTY.. CLICK ON TAB AT LEFT FOR MORE INFO.

FOR LIST OF CLASSMATES WHO HAVE INDICATED THEY ARE COMING AS OF 3/28/14 CLICK TAB ON LEFT
CLASS OF '84 - 30TH REUNION - SAVE THE DATE!
Homecoming weekend Oct 17-18. Game/tent Friday. Saturday dinner and party. Details to follow. Email Ellen Lewis at Eslewis@Hotmail.com with questions. Thanks!
JEB STUART REUNION - MULTI CLASS 1961-1965
(MORE INFO FOR THIS EVENT ON THE LEFT HAND TAB - CLASSES 1961-65)
Come to the Reunion this Fall - and go back in time to the 1960's Some weekend in September or October. Saturday night party plus Sunday picnic. Approximately $100 per person. Combined classes 1961-65. The hotel party site needs to be booked in the next few weeks because competition from fall weddings for large ballroom space has left only a few hotels available.
So we're trying to find out preliminarily who might come and which weekends won't work for you. We need your feedback right away to pick a date. Please let me know as soon as you can. Email or call me, and pass it on to other classmates.

If you want to pitch in and help with this shindig, the more the merrier. If you have kept up with any classmates and have their contact information, sending it to me would be tremendously helpful. So if you can remember those happy days, plan to come to our reunion!
Thanks!
Jimmy Rae
jimrae@rcn.com or 508-877-3622

A new Facebook group has been created to notify Stuart graduates from 1961-65 of our combined reunion this coming Sept. 6-7. Go to https://www.facebook.com/groups/287592481389774/
JAMES HOLCOMBE
Our very own JEB Stuart teacher, current PTSA VP Fundraising, and Co-sponsor of the Stuart Interact Club, James Holcombe, is a semi-finalist for the AFT Everyday Hero Award. This award recognizes teachers that go far and above their duties to help students. Jim gives up his Winter and Spring Breaks to prepare students (not just his own) for the SOL tests. He brings in donuts on a weekly basis to encourage students to participate in the Interact Club. This club holds 22 activities a year for students after school hours and on weekends. Jim is always available to help students and he does many extras for them. Anyone, not just union members, can cast a vote for him. So please vote and help him get the honor and recognition he deserves for all of his efforts on behalf of our students. Please go onto: www.aft.org/everydayheroes/index.cfm and cast your vote as soon as possible. Voting closes on April 20 but please do not wait. Vote now for James Holcombe!
Jeb Stuart High School Welcomes
Ken Budd
Author, The Voluntourist: A Six-Country Tale of
Love, Loss, Fatherhood, Fate, and Singing Bon Jovi in Bethlehem
Monday, April 7, 2014
7:30 – 9:00pm in the Library
The Voluntourist a remarkable memoir about losing your
father, accepting your fate, and finding your destin
by volunteering around the world for numerous
worthy causes: Hurricane Katrina disaster relief in
New Orleans, helping special needs children in China,
studying climate change in Ecuador, lending a hand—
and a heart—at a Palestinian refugee camp in the
Middle East, to name but a few. Ken Budd's emotional
journey is as inspiring and affecting as those chronicled
in Little Princes and Three Cups of Tea. At once a true
story of powerful family bonds, of sacrifice, of
self-discovery, The Voluntourist is an all-too-human,
real-life hero whom you will not soon forget.
ABOUT THE AUTHOR: Ken Budd has written for The New
York Times, The Washington Post, Smithsonian, Huffington Post,
McSweeney's, and many more publications. You can follow Ken
on Twitter—@VoluntouristKen .
Stuart High School Named Winner in
Recycling Communication, Marketing Competition
Teams from three Fairfax County Public Schools (FCPS)
high schools have been named winners of a business
case competition to design communication and
marketing plans to promote recycling across the
school district. The competition was sponsored by
the FCPS Department of Facilities and Transportation
Services.
Winning first place was the team from Stuart High School.
Langley High School captured second place and
Thomas Jefferson High School for Science and
Technology finished in third place. All teams
received monetary awards to implement projects
at their schools and will be represented on a task
force that will come up with the overall district-wide
plan that will incorporate the student ideas and is
scheduled to be implemented for the 2014-15
school year. A team from Centreville High School
is also participating by providing expertise in the
use of applying geospatial technology to a case
study such as recycling improvement.
The competition was designed to promote more
thorough cafeteria, classroom, and outdoor recycling
across the school district. In an effort to illustrate
to student participants the environmental and
business implications of a robust recycling program
within a large organization such as FCPS, the
competition was a collaborative effort by district
personnel in facilities management, the district's
Get2Green environmental education program,
and marketing education program managers.
Ernst and Young supported the competition by
providing the students with technical expertise in
business case analysis, providing written paper and
oral presentation judges, and by hosting the final
competition. They provided a panel of speakers
on careers at the firm that mix business and
scientific-analytical skills and provided the district
with monetary support to implement the winning
recycling marketing plan.
The FCPS Get2Green program is designed to
promote environmental stewardship among all
students by providing them with hands-on,
problem based learning that will improve their
school and community. Students participating
in the business case competition demonstrated
clear comprehension of the complexity of the
issue, technical knowledge of the environmental
and business impact of improved recycling,
creativity in the array of marketing activities
they proposed, and positive teamwork and
presentation skills. The new marketing plans
will be rolled out at schools in the fall.
National Scholastic Award
Fathima Mohideen won a National Scholastic Award!
She is a Studio Art & Design student in Ms. Wallestad's
class. Her painting was a self-portrait of her wearing a
duck mask that she had built. She won a Silver Medal.
Complete list of award winners can be found at online1
Stuart Students Excel at FCPS Regional
Science and Engineering Fair
Stuart students earned top honors at the 59th annual
Fairfax County Regional Science and Engineering Fair
held March 14-16 at Robinson Secondary School.
S Results from the 2014 Regional Science and
Engineering Fair, including a complete list of winners,
can be found online
Congratulations to all our Raiders!!!
GIVE THE GIFT THAT KEEPS ON GIVING!
Donate to the Stuart Educational Foundation - a little goes a long way to help send Stuart graduates to college. Help break the poverty cycle!
It`s easy to do - go to www.stuartfund.org (tab on left side of this page) and donate any amount $10, $20, $500 - all is good and appreciated. Pay with credit card or thru PayPal. Thanks!
FUN ALUMNI TAIL GATE PARTY!
AND RAIDERS WON!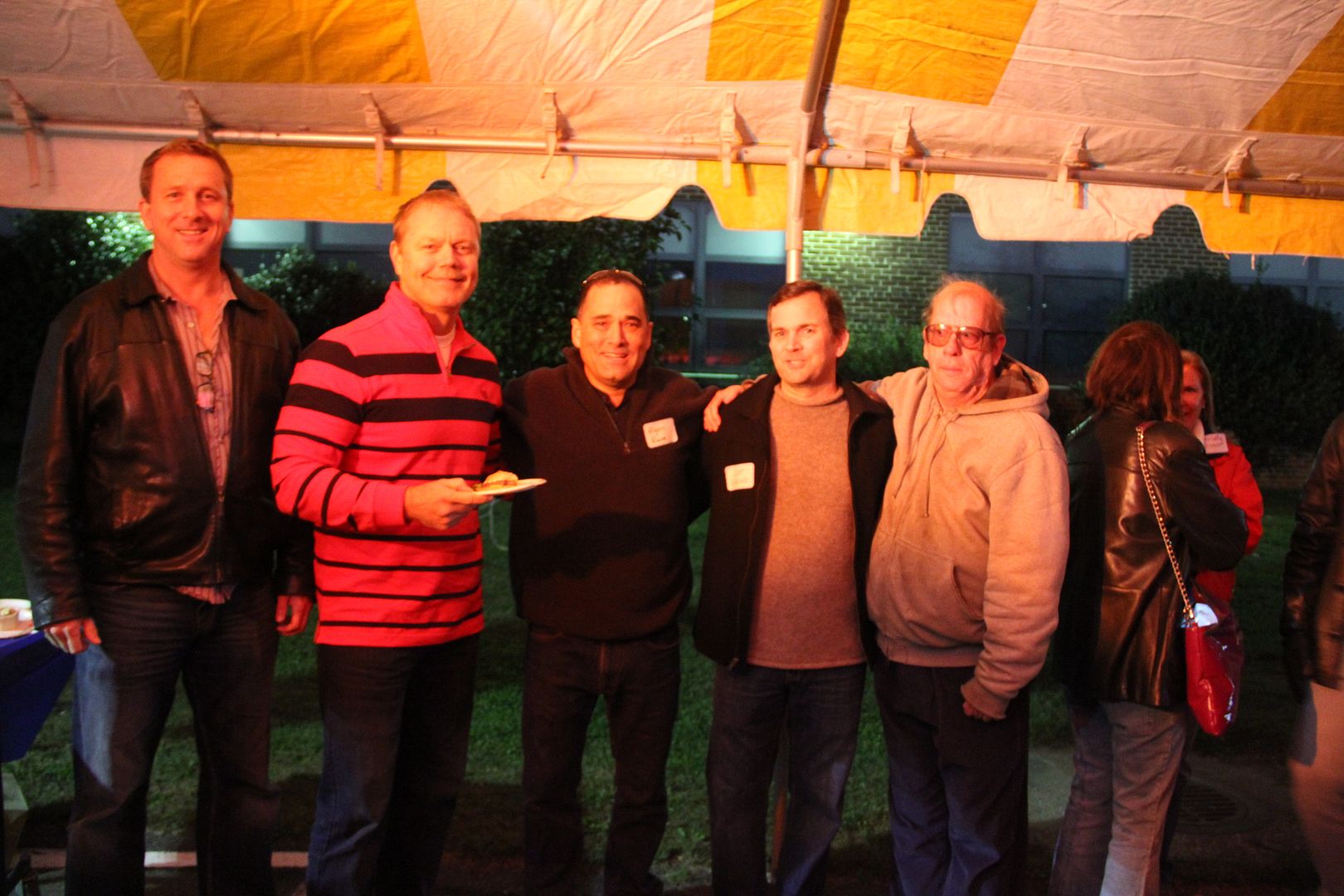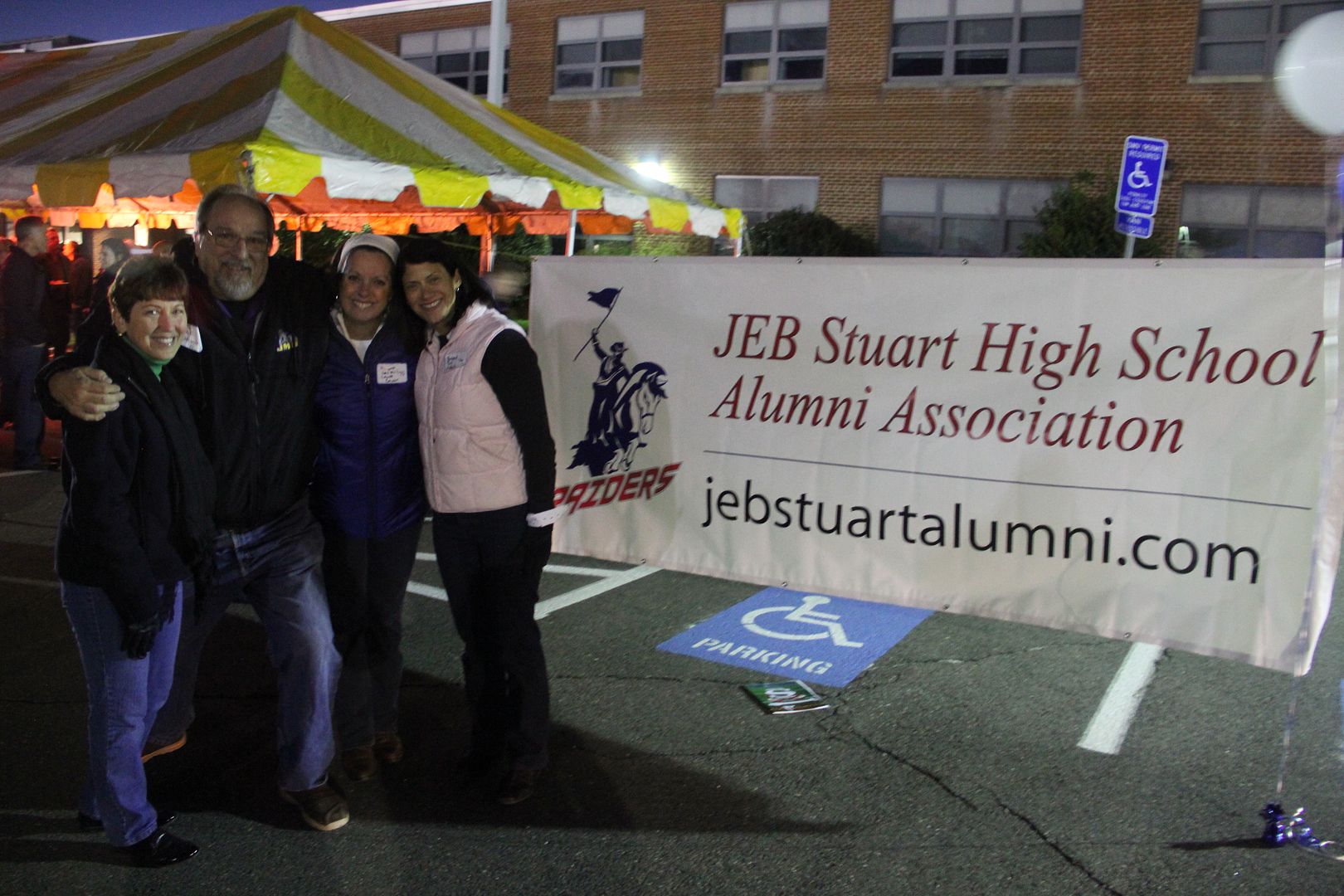 CLASS OF '78 - SATURDAY NIGHT PARTY
Advisory Board Members for 2013-14 :
Andie Rowe, Wendy Hilton, Jeff Hamblen, Jeff Barham, Robin Delaney, Nancy Deprete Benjamin, Gary Houk, Margaret Connor, Carol Miller, Harold Mintz, Laura Nettuno, Vince Nettuno and Susan Tull O'Reilly
Thank you Advisory Board Members for helping out!
Interested in being on the Advisory Board next year - let one of us know (you need not live in the DC area to do this - the primary function is to provide input to our association.)
Post your photos -
of yourself on your profile page and of friends/Stuart stuff on the photos page!
DON'T BE SCAMMED
Alumniclass.com is NOT our website, though it claims to be. They are a FOR PROFIT company - ours is not and ours is approved by the school! Beware!
WANT RAIDER GEAR?

We've got it......Click on this link to purchase all your Raider Gear.
Also available at the home football games.
The mission of the JEB Stuart Alumni Association is to be a means for communication through newsletters, social media and gatherings to benefit JEB Stuart High School alumni, teachers, administrators and their families. By providing current information about class reunions, alumni activities, important school announcements, and scholarship assistance, we will continually strive to build up the JEB Stuart community spirit. Our goal is for the Association to give back the morale, spirit and connections we were once afforded by this outstanding high school for years to come.