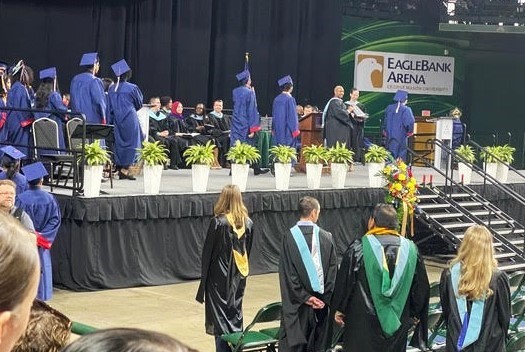 Eighty-four Justice High School students who graduated last week received a total of $353,000 in college scholarship money from the Justice High School Scholarship Fund (JHSSF) and its partners.
The JHSSF provides needs-based scholarships to Justice High School graduates who demonstrate a commitment to learning and becoming contributing members of their communities.
The JHSSF awarded $275,000 to members of the Class of 2024, and its partners – including the Rotary Club of Bailey's Crossroads, the Thurgood Marshall Fund, and the Casey Schulman Foundation – provided an additional $78,000.
The students' stories are amazing, says Jen Hitchcock, a member of the JHSSF board. "These students have overcome really tough challenges. From medical problems, to family financial challenges, being an emancipated minor, to recent immigrants who left Afghanistan and other countries, these young adults are resilient."
A typical award is about $2,500, but some students receive between $7,500 and $10,000 when combining awards from the JHSSF and its partners, Hitchcock says. The Casey Schulman Foundation awarded two $20,000 four-year scholarships to Justice seniors this year.
Just over 70 percent of the scholarship recipients are among the first generation in their family to attend college, and 84.5 percent speak a language other than English at home.
The scholarships are meant to be last-dollar funding to close the gap between what the students receive from the federal Pell program, other scholarships, school aid packages, and their families.
To apply, students answer a series of questions, write short essays, and submit recommendations, a transcript, and evidence of financial need. Applicants must have attended Justice High School for at least two years.
This year, the JHSSF not only raised a record amount of money, but it also aided a record number of students – 84, compared to 64 last year.
Since the scholarship fund was established in 2004, the JHSSF and its partners awarded more than $2.7 million to help graduates take the first step toward a college degree.